You know it must be fall when the trees are turning colors, pumpkins are on porches and people are getting lost in corn mazes.
Once upon a time, pumpkin farms and fall festivals began developing small, simple mazes from hay bales or corn stalks to entertain families, but the current maze craze of huge, elaborate designs in corn fields is only about 15 years old – not so coincidentally about the time that the use of precision technology GPS guidance systems for planters and harvesters started to gain popularity.

There are a number of companies now that specialize in helping people design and cut corn mazes in their fields for fun and profit, like Precision Mazes of Lee's Summit, MO. "Precision Mazes combines the most accurate GPS technology with highly advanced corn field cutting techniques to produce a process you just won't find anywhere else. From basic designs to the most intricate and elaborate creations, Precision Mazes can turn your corn field maze concepts into an attraction people will be talking about for years."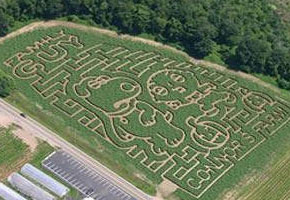 The largest official corn maze (at more than 40 acres) is in Dixon, Calif., but a Nebraska farmer is looking to break that Guinness Book record this year with his 54-acre maze. However, this year's maze craze prize has to go to Bob Connors of Massachusetts, who created one based on the "Family Guy" TV show. Connors reportedly received permission from the Fox network to use the characters from the program and has invited Seth MacFarlane, the creator of the "Family Guy" series to visit the corn maze.
More than 600 corn mazes can be found from coast to coast, according to the Corn Maze Directory, many with different themes each year. The complexity varies but some can take hours to navigate with cell phone help available to those who get lost.
The American Maze Company takes credit for bringing the art of the maze to America and to the cornfield. According to their website, they created and produced the first ever cornfield maze for private or public entertainment in 1993 at Lebanon Valley College in Annville, Pennsylvania. The Maize claims to be the World's Largest Cornfield Maze Company in the world, which provides information on how to create your own maze.