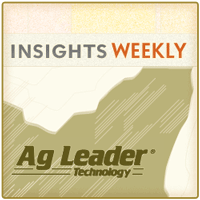 As harvest begins cranking up across the Midwest, growers are headed to the field with a combine and yield monitor that's primed and ready to capture another year of valuable data. And this process often sets their minds to thinking about how they'll use this data during the winter months ahead.
Napoleon, Ohio grower Todd Hesterman consults with other farmers to help them make sense of data in order to create management zones and subsequent prescription nutrient maps.
"I started working with the data on our own 1,000-acre farm that I run with my dad here in northwest Ohio. We began using Ag Leader's SMS Basic software that really worked well, until I decided to use it for my crop consulting business. We then switched to the company's SMS Advanced software because it does a good job with layers of normalized data as well as handle multiple customers," he says.
One interesting way that Hesterman uses the software is to hook his laptop up to a projector and show the field maps on a dry-erase whiteboard. "I've found this method very helpful to learn the history of fields, because clients can take a marker and draw areas that are always non-productive or outline other anomalies. And sometimes with their historical knowledge we redefine management zones, and then I can trace their marks with the software," he says.
Hesterman likes SMS Advance's comparison analysis capability, and how he can write equations. "I've used those several times to determine relationships between lime and yield, or phosphorous and yield, to help make future decisions," he says.
And he has been impressed with Ag Leader's ability to improve and upgrade the software. It's a much stronger program than it used to be, and that's why I made the decision to learn one software program very well, and chose this one."
Check out these links to learn more about SMS software:
SMS Basic
SMS Advanced