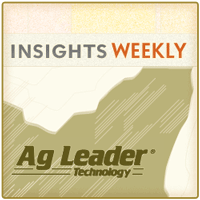 As an Iowa farm kid who grew up loving technology (I just chose to write about it and let my brother run it on the family farm), one of my passions is talking to farmers about their technology adoption—so I can learn and write stories that help others. And over the past 28 years of covering the incredible advances we've all seen, the stories I've heard are amazing, and sometimes funny.
Yesterday I spoke with Tim Norris, owner of a successful central Ohio precision technology business called Agronomic Information Technology, based in Gambier. Norris has more than a dozen years experience installing and helping farmers and custom applicators adopt a complete range of precision farming products—from basic lightbars and excellent monitors like Ag Leader's Insight, to complete auto steer and RTK-guided systems. Tim is an Ag Leader Master Service Dealer, and he also sells Trimble, Tru Count air clutches, Norac auto boom height controllers, Rawson controllers and Orthman strip-till systems.
I called him to talk about how he helps growers adopt the most cost-effective precision technology, especially for those just starting out. He quickly related two 'rookie' stories. "One individual, when I first met with him, told me flat out 'if I ever have to have a machine drive my tractor, I'll quit farming.' A while later, he agreed to demo an EZ Steer. Well, needless to say, he's still farming—only now he has four tractors that steer themselves," he laughs.
"Another customer, who absolutely hates computers, didn't want anything to do with this technology—except his son wanted a lightbar, so he bought one. After awhile, he borrowed the unit from his son and put it in his fertilizer spreader. Well now, the son is complaining because he can't get the lightbar back from his dad. He liked it so well, and realized how much fertilizer he was saving by not overlapping, he kept it," Norris says.
His advice to novices regarding tech adoption—get a plan and research the products. "I've seen too many growers who buy a piece of technology on price alone, use it for a year or two, then learn that they cannot upgrade the lightbar or the type of GPS signal. "The first step, figure out what tasks you want to do first, then write down what capabilities you might want in the future. And seek advice from a variety of experienced sources, like other farmers, dealers you trust, service providers and others," he adds. "The main thing, find a dealer you can trust and feel comfortable with—one that has your best interest at heart. And talk to growers who have used their precision farming services."
We talked through some examples of how different growers might think about their precision technology plan. "You have to think—where do I have the potential to save the most money? What practices will work best?
Example 1: Small farmer – "This person may make more money on investing in grid soil sampling to start out, because he may save a ton of money on lime, and save some on fertilizer input costs. His yields will go up in areas where they would not if he continues to blanket-apply nutrients."
2: Strip-tiller – "Perhaps his money will best be spent on RTK signal, because auto steer and RTK will deliver the seed exactly where the fertilizer was placed, to ensure quick and even emergence."
3: 2,500-acre planter guy – "He might get the most net return on money spent by adding individual point-row clutches. Especially for growers pushing higher populations of 34 to 36,000 and beyond. Not only do they save 3 to 4 percent in seed costs, they also eliminate the 50 percent yield loss in those double-planted areas."
4: No-tiller – "Perhaps he doesn't need an RTK signal as he doesn't need to plant precisely in an exact spot (like strip-tillers need to do). If he's in an area that gets the Omnistar signal, he can save money there."
Check out Tim's website for more information: http://www.aginfotech.net/