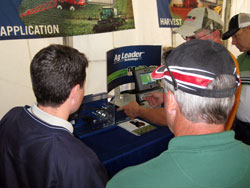 Another Ag Leader Technology helpful representative I met at the Farm Progress Show was Chad Huedepohl. He was showing growers their new SureStop Electric Row Clutch.
The product was in limited release a year ago but now they've done a full release and Chad says the product has generated a lot of interest. He says the SureStop basically shuts down individual seed meters on each row based on yield maps. You can hear him describe how it works in my interview with him. He says this will save on seed and provide a better yield. Looking ahead Chad says growers should order early and not wait until next March. This will assure availability.
You can listen to my interview with Chad below:
Farm Progress Show Photo Album
Precision.AgWired.com coverage of the Farm Progress Show is sponsored by:

.