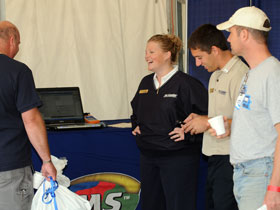 When you visit a farm show the first question I hear asked is, "What's new?" In the Ag Leader Technology exhibit at the Farm Progress Show Jess Ahrens answered that by telling me about the latest version of their SMS software. She says they've just released Version 9.5 which supports more monitor types including the Hemishpere and AutoFarm GPS displays.
Jess says that this allows more customers to read data into the SMS software and then make better harvest decisions. She says it's really important for farmers to not only collect the data but pull it into a system like the SMS software so they have the information they need to maximize their yields.
Training in how to use the software is important and Jess says Ag Leader Technology offers support and training sessions around the country that growers can participate in.
You can listen to my interview with Jess below:
Farm Progress Show Photo Album
Precision.AgWired.com coverage of the Farm Progress Show is sponsored by:

.