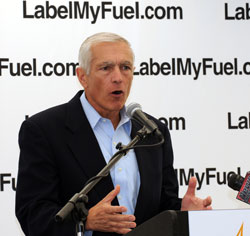 Many of you corn growers using precision technology are very aware of the challenges we've had in the ethanol business, especially battling groups with an agenda to distort facts and misinform the public. Growth Energy is a group that was formed to battle that problem on Capitol Hill.
Here at the Farm Progress Show, Gen. Wesley Clark, Growth Energy, announced a new initiative. The organization is calling for country of origin labeling for fuel. I would call that the "COOL for fuel" initiative! Hey, we do it with food, why not fuel?
General Wesley Clark, Co-Chairman of Growth Energy, today called on the United States Congress and the White House to take action to dramatically enhance the market transparency of the nation's fuel supply by requiring a national standard of country of origin labeling (COOL) for fuel.
The Label My Fuel initiative would create a COOL standard similar to requirements already in place for common consumer items, including apples, beef, cars and coffee. The goal is to help create consumer awareness of the costs and national security implications of the nation's addiction to foreign oil.
Clark also unveiled Growth Energy's labelmyfuel.com, which showcases the costs of American dependence on foreign oil, and serves to rally grassroots support for Congressional action on COOL for fuel legislation.
So what do you think about this initiative? Good idea?
You can listen to the press conference here: [audio:http://zimmcomm.biz/growth-energy/fps-09-growth-press.mp3]
Farm Progress Show Photo Album
Precision.AgWired.com coverage of the Farm Progress Show is sponsored by:

.