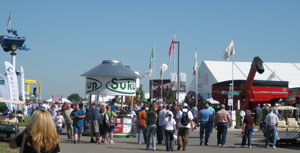 It sounds like we've got a record breaking Farm Progress Show and to learn more about how it's going I spoke with Jeff Lapin, President, Farm Progress Companies.
He says that opening day was record attendance and the streets have been full. Exhibitor feedback has been great. And of course this has to be some of the nicest weather we've had at a show in some time. Having permanent sites which have been improved so much with paved streets and exhibitors who have invested a lot in their exhibit areas also helps make for a unique and enjoyable atmosphere for attendees.
You can listen to my interview with Jeff here: [audio:http://zimmcomm.biz/farm-progress/fps-09-fps.mp3]
If you would like to see photos from the show please check out our Farm Progress Show Photo Album. I visited with our sponsor, Ag Leader Technology, and have several interviews to post for you in coming days. We should also have some video of the precision field demonstrations as well. So there's more to come!
Precision.AgWired.com coverage of the Farm Progress Show is sponsored by:

.