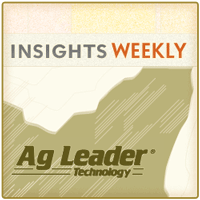 The yield monitor is a valuable instrument during harvest, giving you instantaneous yield numbers as you make each pass in the field. But is your system giving you added value?
Top farmers are using this precision agriculture tool to record results from specifically designed split-planter tests to make buying decisions on hybrids, varieties, traits, insecticides, fungicides, fertility levels, tillage techniques and much more. Below, we've included numerous links to stories that discuss these topics.
Along with aiding quicker and more astute future buying decisions, top growers continue to seek greater automation delivered by monitors that control all applications on their farm.
Ag Leader, a sponsor of precision.agwired.com and owner of the most widely used grain-monitoring technology in the world, believes growers can realize valuable decision-making benefits from several features offered on its InSight and Edge monitors. For example:
• Yield and Moisture Mapping: View a real-time map of your yields and moisture on-the-go as you witness the current field environment to help you draw initial conclusions based on the cropping year. And moisture level data aids drying/storage decisions.
• AutoSwath for Harvest: This features removes the worry of inaccurate acreage and yield data on point rows or partial swaths, since Ag Leader units record data based on the number of rows being harvested.
• Hybrid/Variety Yield Mapping: Looking to make harvest-time buying decisions on what to plant next year? You can overlay your planting maps with real-time harvest maps to get instant yield/moisture comparisons by hybrid and variety.
Check out these additional resources on yield monitors:
Ag Leader yield monitors
Step-by-Step Yield Monitor Data Analysis – Top Farmer Crop Workshop, Purdue
Using Yield Monitor Data for On-farm Experiments – Top Farmer Crop Workshop, Purdue (and check out links at end of this story on how to filter your raw yield data)
Making Cents out of Multiple Years of Yield Monitor Data – South Dakota State
Setting up Side by Side Comparisons with a Yield Monitor – Pioneer
Why and How to Calibrate Your Yield Monitor – Iowa Soybean Association
Yield Monitor Calibration Tips – Ohio State
Yield Monitors and Maps: Making Decisions – Ohio State