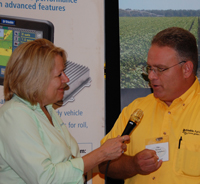 I recently attended the Southern Peanut Growers Conference blog and talked with representatives from Trimble and Ag Technologies who work together in the Southeast to provide the very latest in technology to help peanut growers be more productive.
Tim East of Trimble and Brian Kelly of Ag Technologies discussed their relationship with peanut growers in the southeast and what they offer for growers. "The peanut growers and the people in the peanut industry are great to work with," Tim said. "Technology is a tool in the tool box. We're trying to make the farmers more efficient to get more things done in less time."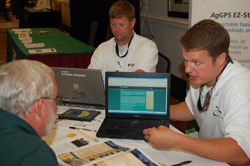 Brian says they listen to the needs of growers and bring the technologies to them. "We try to go to and work with the vendors we service, such as Trimble, in the interest of bringing those solutions the customers need, such as saving money on energy," he said. "We've gotten to see a lot of these customers take precision ag full circle and see it make money and save on those energy costs."
Trimble and Ag Technologies were the sponsor for the Southern Peanut Growers Conference blog for the second year in a row.
Listen to my interview with Tim and Brian here: [audio:http://zimmcomm.biz/peanuts/spgc09-trimble-pp.mp3]