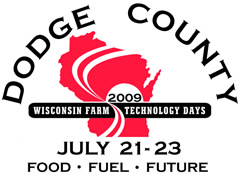 Taste, technology and tradition will converge at the Wisconsin Farm Technology Days , July 21-23.
This year, the event is being held at The Crave Brothers Farm in Waterloo, Wisconsin. The Crave Brothers are living examples of the event theme of "Food—Fuel—Future." Since 2002, they have increased milk production on their family farm, doubled the size of their on-farm cheese plant, and formed a unique partnership with Clear Horizons of Milwaukee with two anaerobic manure digesters that create enough electricity to power 550 average Wisconsin homes. Visitors to the 1,800-acre host farm will be able to see for themselves what's on the horizon for farm technology.
Wisconsin Farm Technology Days will feature 1,000 exhibitors and a ride-and-drive area for test-driving skid loaders, utility tractors and more. Among the field demos are alfalfa foraging, tillage, and wheat harvesting.