The organizers of two international agricultural shows have announced a formal alliance to coordinate show dates that will allow agriculture producers to attend a major international agriculture trade show each year.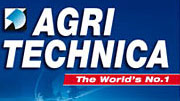 The alliance is between DLG (German Agricultural Society), the organizer of the world's largest agriculture machinery show Agritechnica, and the Association of Equipment Manufacturers (AEM), organizer of the new agricultural trade show AG CONNECT Expo, scheduled for January 13-15, 2010 at the Orange County Convention Center in Orlando, Florida. Agritechnica is held on odd numbered years with the next show scheduled for November 10-14, 2009 at the Fairgrounds in Hanover, Germany.
Both Agritechnica and AG CONNECT Expo 2010 are organized with a focus on providing a world-class event with top value and the highest quality experience for registrants. The philosophy shared by the shows is to provide customers with the full agriculture trade show experience. For 120 years the DLG exhibition has highlighted technological advances favored by agriculture producers. AG CONNECT Expo 2010 has a parallel concept that will provide a global gathering place in the United States for agriculture producers, manufacturers and agribusinesses.