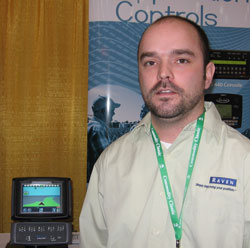 Smart is the key word for Raven Industries' precision agriculture products.
SmartBoom, SmartRow and SmartSteer were the newest products on display for growers visiting the recent Commodity Classic trade show. "SmartBoom will shut your sprayer sections off automatically," said Raven's Ryan Molitor. "SmartRow is the same box, you just switch out a cable and it works for the planter sections."
"SmartSteer attaches directly to the steering wheel for assisted steering," Ryan says. "The great thing with SmartSteer is that you don't have to take the steering wheel off to install it – it snaps right on to the steering wheel. Very affordable and simple to use assisted steering" And Ryan says all the products work with Raven's new Cruizer guidance system.
Listen to an interview with Ryan from Commodity Classic, conducted by ZimmComm reporter Joanna Schroeder: [audio:http://zimmcomm.biz/precision/cc09-joanna-raven.mp3]