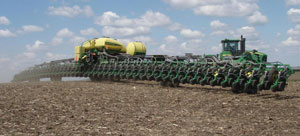 The John Deere DB120 was too big for the John Deere booth at Commodity Classic this year, but there was still lots of interest in this new machine that offers standard technology features that can help growers be more productive than ever before
The DB120 has 48 row units, 30 inch centers and is a full 120 foot wide. Base technology equipment includes Central Commodity System (CCS) with Refuge Plus™, Variable Rate Drive, RowCommand™, SeedStar™ 2 Monitoring, and Pneumatic Down Force.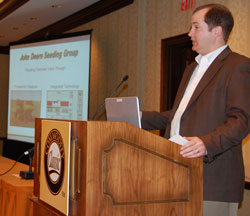 John Deere seed division marketing manager Rob Rippchen says the CCS and Refuge Plus™ provides 125 bushel of seed capacity for the planter. "You can plant somewhere between two and a half and three hours before needing to refill," said Rob. "SeedStar™ 2 Monitoring was our upgraded monitoring system that was introduced last summer that gives growers a good interface in the cab and controls the majority of features on the planter from the seat of the tractor."
Technology is making it all possible, said Rob. "If auto guidance wasn't available, you probably wouldn't see a 120 foot planter. If RowCommand wasn't in the market place, where you can shut off individual row units automatically, you probably wouldn't see a 120 foot planter. So, it's really the technology that enables us to take that next step in planter productivity."
All this for only $345,000 list price. Not a bad deal for large volume growers who are planning on adding more acreage.
The DB120 was introduced at the National Farm Machinery Show last month, where we shot a little YouTube video you can view here.
Listen to Rob talk about the DB120 at Commodity Classic here: [audio:http://zimmcomm.biz/john-deere/cc09-jd-rippchen.MP3]