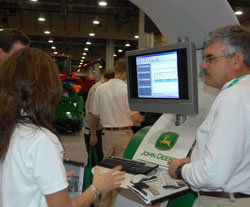 A record number of growers are attending the biggest ever trade show at the 2009 Commodity Classic this week in Grapevine, Texas. No economic crisis here!
John Deere Ag Management Solutions representatives have stayed busy talking with growers interested in upgrading – or even just starting out – with precision technology that can help them save money on input costs and increase productivity. One way to do that is with APEX software which allows producers to visualize farming practices and productivity of past years and use that information to make important decisions for the next production year and beyond.
I did a little YouTube video with Sarah Davis of John Deere AMS explaining some of the ways the APEX software can help producers.