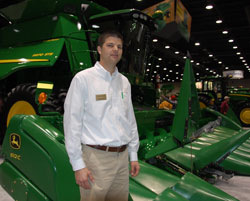 A new sensing system on corn heads called AutoTrac™ RowSense™ allows precision guidance to be used on combines that are harvesting corn.
"The biggest benefits to the grower include less operator fatigue," said John Deere combine product specialist Steve Sporrer at the National Farm Machinery Show in Louisville this week. "We're also on the row more consistently and it's an absolute must for down corn."
The system accurately guides the combine down the row at optimal harvesting speeds and even helps maneuver around curves, through waterways, or in weedy areas.
Read more about it here and listen to an interview with Steve here: [audio:http://zimmcomm.biz/nfms/nfms09-jd-steve.mp3]
See more photos here: NFMS 09 Photo Album