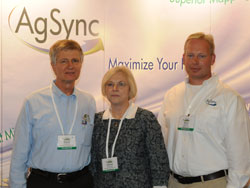 This week I'm attending the National Agricultural Aviation Association Convention in Las Vegas. It's the first contact I've had with this group and I've been learning a lot. For example, I didn't realize how big a role precision agriculture is playing in aerial application. I guess it makes sense though. If you can use gps and variable rate on the ground then why not from the air?
One of the people who explained some of this to me was David Eby, AgSync, pictured on the left of Denise and Ryan Eby in their trade show booth. David says that they realized the need for aerial application companies to have a software solution for managing data, especially when they've got multiple planes in the air. So they developed AgSync, which is a web based solution for this problem. We're sure seeing a growth in web based programming aren't we? Even in ag!
David says they've been working closely with BASF on the development of this program. I've been hearing a lot of applicators here talking about BASF's Headline fungicide and I asked him what that has meant for the business. He says "it has changed our world in aerial application."
Listen to my interview with David here: [audio:http://zimmcomm.biz/naaa/basf-naaa-08-eby.mp3]
If you'd like to see some photos from the convention then check these out: NAAA Convention Photo Album
AgWired coverage of the 2008 National Agricultural Aviators Association Convention
is sponsored by:

.