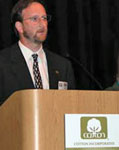 The recent Cotton Incorporated Crop Management Seminar in Tunica, Mississippi featured workshops to help growers learn more about precision management.
Director of Agricultural Research Ed Barnes says they actually had two different precision workshops. "One for people who really had not done any work with precision agriculture. We had a workshop on the basics of how to scout your field, use a GPS and download data back to the computer."
"Then we had a second workshop for people who are more experienced and wanted to take it to a new level, transitioning to zone management where you manage by soil type a little more," said Barnes. The workshops concluded with a look at the "Green Seeker" variable rate application and mapping system that can help cotton growers make real time variable rate applications of plant growth regulators and defoliants.
Some 200 growers were able to attend the workshops and Cotton Inc plans to have another at the Beltwide Cotton Conferences in January.