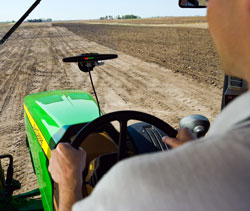 If you're looking for an economical way to get started using precision ag on your farm, John Deere has some new options.

Adding to the extensive lineup of GreenStar precision ag products, John Deere announces a new line of economical systems to help operators get started with precision ag or enhance the older systems they may already own.
"Let's start with the new GreenStar Lightbar," says Kyle Collins, senior marketing representative, John Deere Ag Management Solutions. "Many of our customers need a simple, economical parallel tracking display. Our new lightbar has 27 tracking LEDs to guide the operator as they are driving their equipment through the field. They easily steer the tractor or other self-propelled machine left or right based on which lights are illuminated."

While I was attending the recent National Association of Farm Broadcasting convention I spoke about the new budget precision options with Laura Robson, John Deere Senior Marketing Manager.
You can listen to my interview with Laura here: [audio:http://zimmcomm.biz/john-deere/nafb-trade-talk-robson-precision.mp3]