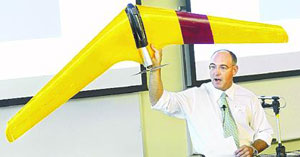 Indiana Unmanned Aircraft Systems is taking precision to the air with a successful test flight. This is a picture of one of their units from their website.

Indiana Unmanned Aircraft Systems (IUAS), a Muncie, Indiana based aerospace company and manufacturer of small unmanned aircraft systems, announced the first successful test flight of its Im VII Air Vehicle Two (Im VII AV-2) took place on Saturday, November 8.
Im VII AV-2 represents over six years of research and development into small flying wing aircraft that do not require an onboard flight computer to remain stable in the air. The company is the only designer and manufacturer of all-wing aircraft developed specifically for precision agriculture imaging applications. "Our all-wing platforms are world leaders in payload lifting and flight endurance capability as compared to similar-size aircraft of conventional designs," says Jeff Imel designer of the Im VII and company founder.
The aircraft is integrated to hyper-spectral cameras for use in precision agriculture image capture and analysis. The images are used by growers to determine the health of their crops, insect infestation, storm damage assessment and nitrogen run-off analysis. IUAS will be working with universities, agriculture business, and farmers across the state of Indiana.