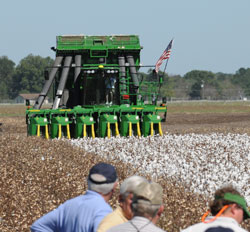 I told you I'd get to see the new John Deere 7760 Self Propelled Cotton Picker in action. This bad boy will be ready for sales next year but growers can call their local dealer to get an on-farm demonstration.
I liked the American flag touch. It was waving in the nice breeze we had all day. There were also field demonstrations with corn, soybeans, hay and peanuts.
If you'd like to see photos from the Sunbelt Ag Expo, I've got them in a Sunbelt Ag Expo Photo Album.