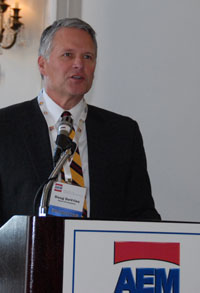 A new breed of ag show has the support of the major farm equipment companies that are members of the Association of Equipment Manufacturers.
At AEM's AgExecutive Forum in St. Louis last week, Deere & Company Senior Vice President of Ag Equipment Marketing Doug DeVries said he is really looking forward to AEM's new AG CONNECT 2010 expo, which will be held January 12-15, 2010 at the Orange County Convention Center in Orlando. "We're really excited about AG CONNECT as the first AEM-sponsored, agricultural equipment show that is brought to our customers by the industry and for the industry," he said. "We believe it will be a different type of experience for people." He is most excited about the global focus of the expo and the educational opportunities they plan to offer.
I also asked Doug about the mood of farm equipment companies during this current downturn in the economy. "Clearly this is an extraordinary type of time," Doug says. "But thinking about the long term issues associated with agriculture, we have a very bright future."
With the growth in global population and the need for people to improve their diets, "we think that its important that ag equipment manufacturers be able to provide the productivity to meet the needs for food, fuel and fiber as we move forward."
And precision technology is what is helping to improve that productivity.
Listen to an interview with Doug here:
[audio:http://zimmcomm.biz/AEM/aem-forum-08-devries-2.mp3]