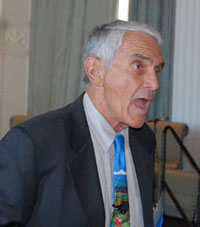 Dr. Jay Lehr of The Heartland Institute has a passion for agriculture – especially precision agriculture.
"The average person thinks that farming today is the same as it was in his grandfather's day and it's changed dramatically," said Dr. Lehr at a meeting of farm machinery company executives last week in St. Louis. "Using global positioning systems, geographic information systems and variable rate technology, automatic steering allows us to reduce our inputs by being more accurate."
Lehr is Science Director of the Heartland Institute which is a national nonprofit research and education organization with the goal to "discover, develop, and promote free-market solutions to social and economic problems." He was one of the featured speakers at the recent Association of Equipment Manufacturers AgExecutive Forum.
He encourages people in agriculture to be pro-active in talking about modern farming. "We can treat a 500 acre farm today like ten 50 acre farms because the topography and soils may be very different and require different inputs and different seed spacing," he said. "And that is very exciting for people to understand and if they shared that with their children they might be more interested in staying on the farm instead of getting a job in town."
Listen to an interview with Dr. Lehr here:
[audio:http://zimmcomm.biz/AEM/aem-forum-lehr.mp3]