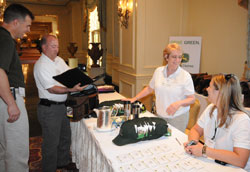 We're getting ready to "Drive Green" here in Sarasota, FL. The company announced their new line of utility tractors in the 5 and 6 Series. I'll have pictures and video after we go out there later today.
This morning at the registration table I spoke with Barry Nelson, Public Relations Manager, about what's new from John Deere. He said, "We introduced a new series of utility tractor. In fact, this is so significant for us this year, we're calling it the "Year of the Utility Tractor." The new tractors will display the new John Deere numbering system and come in sizes from 40 to 140HP. Barry says they bring their dealers here every year for training and thought that with all the equipment on hand, it provided a good opportunity for the media to get on them as well.
I asked Barry if precision applications and equipment could be used with these new tractors and he said yes. However, they're mostly for loader work, mowing and in most cases may not be what you'd want to install precision equipment on. He did say though that they have a very economical precision package available that includes a satellite receiver and a light bar for $1,400.
You can listen to my interview with Barry here: [audio:http://zimmcomm.biz/john-deere/drive-green-08-nelson-1.mp3]