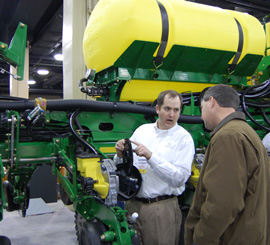 With seed costs getting higher every year, it pays to be precise when planting to avoid wasting any of that precious potential profit.
Rob Rippchen, division marketing manager for John Deere's seeding group, was the planter go-to guy at the 2008 Commodity Classic and he was so busy talking to interested growers that I had trouble getting him away for an interview. When I did, he told me what was new this year and the key word he used was "precisely."
"What's new this year is we have a central insecticide system for our Pro-Series row units that allows us to precisely place insecticide treatment for rootworm in corn," Rob told me. "The other improvement that we made was to our vacuum meters to allow growers to more precisely place seed corn in the ground."
He says growers are looking for even emergence and even spacing for corn. "It's not only having the accurate spacing between the plants but having the proper depth control that's done with the row unit," he says.
Through John Deere Ag Management Services, they also can add the auto shut-off capabilities to the planter. "Another way to save some seed costs as well as eliminate the yield drag that happens when you double plant corn."

Check out what's new in seeding and planting equipment on-line here.
You can listen to my interview with Rob from Commodity Classic here:

Rob Rippchen Interview (2:30 min. mp3)