Farmers Guardian of the UK has a series of articles about a Precision Farming Event held last week in England.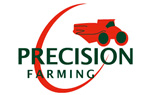 According to the event website, they showcase "the best practical solutions available to implement precision farming. A full day technical trade exhibition with working demonstrations and a seminar programme packed with real-time examples of how to get the maximum benefits from precision farming. Its aim is to bring together farmers and the trade under one roof to discuss the best possible solutions for the farm business."
Here's an excerpt from Farmers Guardian reporter Mervyn Bailey's coverage of the show:

The merits of GPS auto-steering are now well known, allowing farmers and contractors to make the most of each pass, saving time and fuel. But it has also helped encourage them to go further down the precision farming line.
A number of manufacturers were saying that, while sales of steering aids remains steady, there is now more interest in variable rate application and automating sprayer boom control.
Manufacturers are also working closer together to record the work carried out in the field and help make use of it in the office.
Outside, tractor manufacturers were showing just how precise their automatic steering systems could be.
(Photo credit – Farmers Guardian)