One of the Top 10 agricultural innovations showcased at the recent World Ag Expo's New Product Center was the AutoProbe by AgRobotics.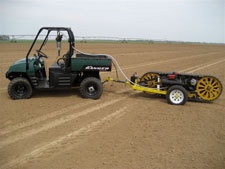 According to World Ag Expo, the AutoProbe is "the first high speed, on-the-go soil sampler for precision soil sampling. Samples are collected at a precise depth and interval over a section of land. On a 2.5 acre grid, twenty cores are pulled to constitute a sample. This is done at a constant speed of 8mph. The machine is guided and steered with GPS."
The AgRobotics site features a seven minute video of the AgRobotics AutoProbe™ in action.
AgRobotics is an Arkansas-based company that was founded in 2006 by a third generation farmer and agricultural entrepreneur. According to the website, company founder Jim Burton has over 35 years of day-to-day farming experience and an education in Agricultural Engineering, and has experienced first-hand the advancement of digital technology on an operating farm.