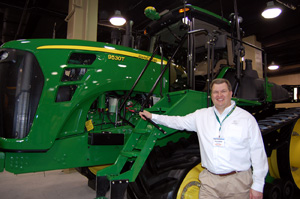 If you are in the market for a new tractor and are maybe still using an older model – be prepared to learn some new tricks with your new ride.
Jerry Griffith, marketing manager for the John Deere 9030 series ag tractors, was at the 2008 Commodity Classic last week in Nashville talking with growers from all over the country interested in purchasing new machinery this year or next. He says some precision features are now standard on new tractors.
"Couple of years ago we started offered all of our AutoTrac integrated components as a free promotion," he says. "Beyond that, all you really need is the receiver, the display and the software to do the AutoTrac system."
Griffith says their dealers provide excellent support for growers to meet their precision needs. "A lot of them anymore have specialists who work with our AMS components to provide the solutions that our customers need in the farming world in the precision ag applications," Jerry said.
One of the benefits of guidance systems and other precision features is helping farmers work longer hours with less fatigue and Jerry says one of the features on the new 9030 series lets them do that more comfortably with an air cushion suspension system that provides "the best ride in the industry."
You can listen to my interview with Jerry here:

Jerry Griffith Interview (3:40 min. mp3)