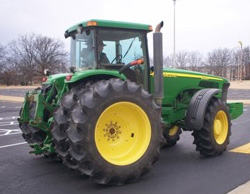 Tennessee Grower Alan Meadows is willing to bet that no less than 90 percent of all farmers who try their hand at tools using precision technology wouldn't ever dream of moving forward without it. In an interview, Meadows told reporter Stewart Doan that if farmers "try it… [they'll] never go back."
Meadows was a presenter at the American Soybean Association/John Deere Ag Management Solutions seminar in Arkansas last week.
You can listen to Stewart Doan's interview with Meadows here:

Alan Meadows Interview (1 minute MP3)
Don't forget that this interview is part of our Precision.AgWired.com Podcast. Subscribe on your computer and get them automatically using these instructions.