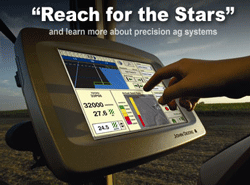 Precision technology puts extra cash in your pocket according to a grower from the northeast Arkansas area. David Pigue uses precision farming in his cotton and grain harvesting operations and he says the innovative technology produces excellent results. He says applying the technology in different ways is sure to make farmers more money, whether they get "knee-deep or neck-deep" into precision farming techniques.
You can listen to Stewart Doan's interview with Pigue here:

David Pigue Interview (2 minute MP3)
Don't forget that this interview is part of our Precision.AgWired.com Podcast. Subscribe on your computer and get them automatically using these instructions.