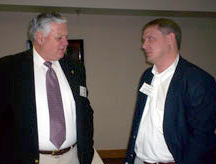 Farmers are feeling out the benefits of GPS satellite technology with measured care. At least, that's what "Reach For The Stars" seminar presenter Dr. Terry Griffin says. Griffin held an audience at last week's American Soybean Association/John Deere Ag Management Solutions seminar in Arkansas.
The University of Arkansas Ag extension economist says precision agriculture encompasses several different technologies and isn't just one individual piece of technology. He calls precision farming a new, modern system for approaching and applying work in the field.
You can listen to Stewart Doan's interview with Griffin, where he explains more about this system of data, guidance tools and GPS technology here:

Dr. Terry Griffin Interview (6 minute MP3)
Don't forget that this interview is part of our Precision.AgWired.com Podcast. Subscribe on your computer and get them automatically using these instructions.