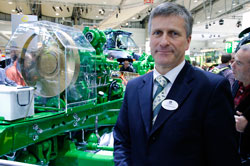 John Deere has already attracted a large, steady crowd to it's revamped exhibit at Agritechnica… and the event hasn't even "officially" begun. The preview days, or the days typically reserved for media, honored guests and participants who don't mind paying triple the normal entrance fee, got a sneak peek at Agritechnica 2007 for two days before the farm machinery show's official opening. Both John Deere's high-tech demonstration, complete with a tractor that drives and moving hi-definition plasma tv screens, and the company's iSolutions were a big part of the "new John Deere look" that was attracting such a sizable "preview days" crowd.
I spoke with Dr. Oliver Neumann, the manager of public relations in John Deere's European market, about the new John Deere exhibit, the company's new approach to consumer education on precision technology and, of course, it's gold medal winning E Premium series 7430 and 7530 tractors.
You can listen to my interview here:


Neumann (5:00 min mp3)
I'll be posting more information on the technology behind John Deere's iSolutions and precision agriculture campaign soon.