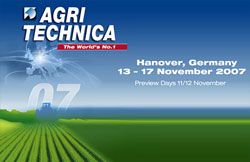 The dates for Agritechnica 2007 are fast approaching. This year's event is being held next week, November 13 through 17. Agritechnica is one of the world's biggest showcases for farm equipment. The German Agriculture Society hosts the event once every two years. Thanks to John Deere, I have the opportunity to travel to Germany and check out the latest in farm machinery innovation. In fact, I'll be in the air today making my way to Frankfurt. You'll be able to find most of my coverage of the week-long trip on Agwired.com. I will be on the prowl for precision ag technology though, so check back here often to catch up on the tools and software I unearth in Germany.
The trip will also feature an inside look at the John Deere identity in Europe. John Deere will be taking our group of reporters on a factory tour of the John Deere Werke Mannheim Plant, where we'll get to learn about and witness John Deere Product Verification and Validation. The John Deere European Parts Distribution Centre is also scheduled stop, along with a tour of both a German arable farm and vegetable farm. Of course, we'll also get a warm welcome from the German Agriculture Society.
It won't be all work with no play though. John Deere will be taking good care to ensure we get a good look at some Deutschland landmarks, including the old German town of Heidelberg and it's historic castle. And, the trip wouldn't be complete without a stop at an authentic German winery.