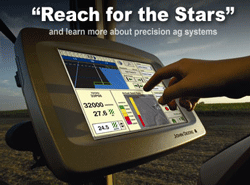 Before becoming a Reach for the Stars winner this year, Curtis Claeys of Delmar, Iowa had pretty limited experience with precision farming.
"I'm not real technologically advanced," Curtis says. "Thankfully, my son is in college so when I get stuck I can give him a call and he can walk me through it. Otherwise, our local tech guy was very supportive and very good as far as taking care of us and getting us set up."
Curtis was very pleased with the way precision farming helped him save money with nitrogen and fertilizer application by avoiding overlap. "And I think as they get this advanced, it will really save us a lot of money."
Listen to some of my interview with Curtis here.


Curtis Claeys (4:30 min mp3)