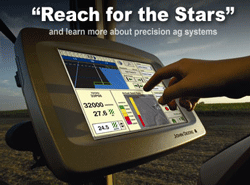 Alan Meadows is a corn and soybean producer from Halls, Tennessee – which is located in the western part of the state near the border with Missouri. As one of this year's ASA/John Deere Reach for the Stars winners, Meadows was able to use the precision agriculture package in several different applications.
"First I had it on my sprayer and used the AutoTrac on it," Alan said. "We also bought the Swath Pro and put that on there and that worked very well." He also used it on the combine in harvesting beans.
Alan says he learned how precision farming helps in cutting down on overlaps and helped him save time and money. "Your efficiency is so much greater with no overlap or driver fatigue."
Listen to some of my interview with Alan here.


Alan Meadows (3:00 min mp3)