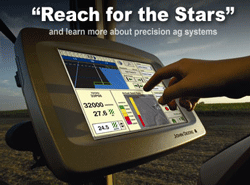 Ted Vinson of Fithian, Illinois had very little experience with precision technology prior to winning the ASA/John Deere Reach for the Stars contest this season but now that he's been able to use it he says, "It really is a tremendous technology and one you really can't do without after you've had it."
Vinson, who has a 1300 acre corn/soybean operation, used the precision farming package to map all of his fields at planting time, used the Green Star Auto-Trac assisted steering system to plant both corn and soybeans and to harvest soybeans, and used the yield monitor for both corn and soybeans.
Did it save him time or money? "Yes, definitely, it saved both time and money," he said. "On the time side, when you plant with auto steer you get straighter rows and not having to use row markers to guide you on your next pass its faster to cross waterways. On the money side, less fuel was used when we combined the beans because you're always taking a full header width cut."
Listen to some of my interview with Ted here.


Ted Vinson (2:30 min mp3)