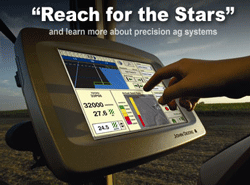 Not much rain in Gibbon, Minnesota this season either, according to ASA/John Deere Reach for the Stars winner Peter Kramer who farms about 1100 acres of mainly corn and soybeans.
Pete says he was able to use AutoTrac with planting and spraying this season. "This fall I plan on using that same tractor and the AutoTrac to pull my strip tiller and make my strips for banding fertilizer for next year," he said.
According to Pete, the main benefit of the precision package for him has been allowing him to run longer hours with less fatigue. "It's helped me, without a lot of labor, to farm a little more efficiently and in a shorter time."
"The best thing I liked about the system was their tech support," Pete added. "There's a learning curve to get the thing up and running but the dealership helped me out quite a bit and the on-line tech support helps out a great deal."
Listen to my interview with Pete here.


Pete Kramer (4:00 min mp3)