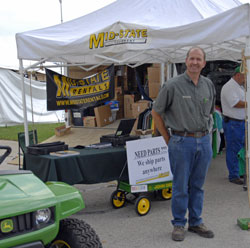 At the just completed World Dairy Expo one of the exhibitors was Chuck Endres, Mid-State Equipment. He told me that dairy producers are looking at precision agriculture equipment to help them become more efficient.
When it comes to precision equipment he says the biggest benefit to dairy producers is dealing with moisture when making haylage. He says the equipment they're selling includes moisture sensing and yield monitoring on their John Deere Choppers. This not only allows the producer to quickly and easily measure moisture content but saves the time of having to run loads to a scale.
I asked him how this will return the investment and he says it could mean the difference between having spoilage and turning cows off feed and that's a cost no producer wants to deal with.
Listen to my interview with Chuck here:

Interview with Chuck Endres (MP3)