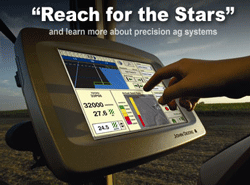 The ASA/John Deere "Reach for the Stars" winner from southwest Georgia had to contend with some seriously unfavorable weather conditions this year, but Roger Godwin of Pelham says at least AutoTrac made his life easier when it came to harvesting his peanut crop.
"Lot of people don't know how peanuts are grown," Roger said. "We have a plow that we go in and plow those peanuts up and invert them and you really have to stay within about a 2-3 inch tolerance of where you planted to plow those peanuts up correctly and invert them. And this AutoTrac has really made a difference in that. It has been the easiest to plow this crop up that I've ever had. I'm really impressed with that part of it."
Listen to my interview with Roger here.


Roger Godwin (5:00 min mp3)