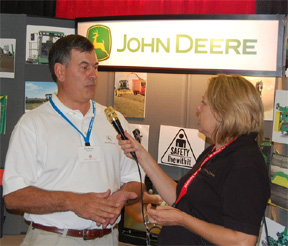 John Deere is exhibiting some new technology at World Dairy Expo this week that can help dairy producers by getting added value for forage at harvest.
John Deere Hay and Forage Product Specialist Jim Buchs told us about Harvest Lab. "We put a unit on our forage harvester that can measure the moisture as its going through the machine," Buchs said. "With that information, we can calculate the true tonnage that we are harvesting."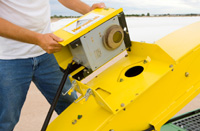 That information can be used to adjust the harvesting rate to the receiving rate at the bunker silo so you can adjust packing tractors or other required applications. "Also, how much inoculant or some other kind of crop treatment that you want to apply can be more accurately applied," said Buchs.
Traceability may be the most important way this information could be used, especially in light of the recent pet food scare in China. "I think the requirements of all livestock segments in the world will have to have more traceability," he said. "We're going to be able to document where this feed came from originally in the field and what kind of history it has in terms of insecticide and herbicide usage."
Listen to Jim's explanation of the Harvest Lab here:


Jim Buchs (6:00 min mp3)