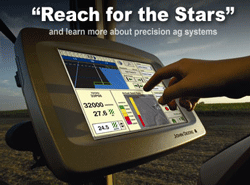 We are getting back in touch with all the ASA/John Deere "Reach for the Stars" winners this year to see how the system worked for them and just how their crop year has been.
Our first follow-up is with Colin Dutenhoffer who grew wheat, corn and beans this year in Aberdeen, SD. Despite a weird weather year that included flooding and replanting, he is harvesting a satisfactory crop. "Wheat wasn't anything really spectacular, but it was okay. Beans are looking decent, again nothing spectacular. Corn – eagerly anticipating that, looks like it might be pretty good," he says.
Colin says he used the GreenStar AutoTrac Assisted Steering System for planting corn this year. "I don't think I even dropped a marker on my planter this year, just used the guidance system," he said. "And then started planting beans with it, both with the planter and the drill, and used the guidance and the auto steer on both of those." He also used it to cut some alfalfa.
His favorite thing about the precision package was the record-keeping. "The record keeping functions during planting were really tremendous," he said.
Listen to my interview with Colin here.


Colin Dutenhoffer (4:00 min mp3)