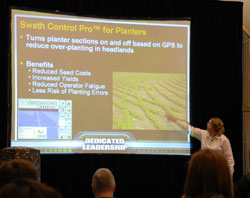 At the John Deere product introduction Kayla Reynolds, John Deere Ag Management Solutions, gave a presentation to the media and a group of securities analysts. It was kind of a like a Precision 101 class since many of those attending have no background or experience with agriculture. The event provided them with some great information that will help them better cover the industry.
After her presentation I spoke to Kayla about the main points she wanted to get across to the group about the new things being offered by John Deere. She focused on 4 main topics related to precision ag. They are long range RTK, shading optimization, GS2 rate controller expansion and Swath Control Pro for planting. She explains each of them and what is new about them.
It appears that John Deere has made some significant strides in the area of precision ag. For example the new long range RTK allows a grower to operate their equipment with sub inch accuracy at up to 12 miles from the base station instead of the 6 miles previously possible.
You can listen to my interview with Kayla here:

Kayla Reynolds Interview (4:00 min mp3)