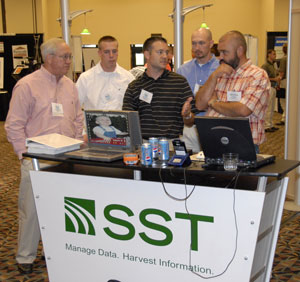 Managing data well on the farm can help growers harvest a wealth of information to help them operate more efficiently. One company that helps growers do that is SST Development Group of Stillwater, Okla.
Operations manager Matt Waitts says SST is a software and information services company started in 1994. "We have an extensive record-keeping program for producers to record all their field activities, such as planting and spraying. We have a desktop component and a mobile handheld unit that can be taken out into the field."
"We're really focused on providing tools that let growers have more information about what's going on out in the field so they can learn what's working and what's not working," said Matt, seen here demonstrating those tools at the recent InfoAg conference.
Matt says SST has a partnership with John Deere "where they are using they are using our reference data base to make it easier for producers out in the cab and that data will transfer over into our products."
Listen to Chuck Zimmerman's interview with Matt here:

SST Interview (6:00 min mp3)