Precision agriculture was in the spotlight last week at a University of Kentucky College of Agriculture field day.
This article from the Louisville Courier-Journal goes into some detail about how precision technology is helping farmers to save money on herbicide applications. Here's an excerpt:
The historically inexact science of applying herbicides to crop fields is getting more precise and less expensive as recent technology allows individual nozzles on sprayers to be activated and shut off by computer.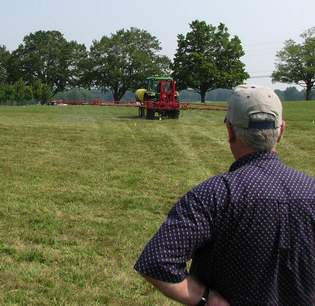 Scott Shearer, a University of Kentucky biosystems and agricultural engineering professor, demonstrated nozzle controls last week that use global-positioning system information to eliminate overlaps as sprayers with 90-foot-wide booms pass through Kentucky's often oddly shaped fields.
While most existing boom controls shut off sections of the sprayer, the technology being promoted by UK allows individual nozzles to be turned on and off.
"We don't have the perfect rectangular-shaped fields like they have up in the Midwest," said Bowling Green farmer Joe Duncan, who watched a demonstration during the College of Agriculture's Field Day on Thursday. "We've got so many point rows, you know, odd-shaped fields, that a lot of times, especially these herbicides … can be damaging to crops at high levels."

Read the rest of the story here.
In the photo, Joe Duncan watches a demonstration of individual sprayer controls during the field day. (Photo by Gregory A. Hall, The Courier-Journal)