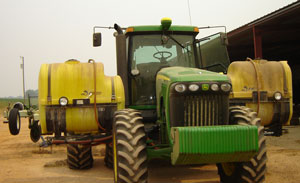 I got an email yesterday from Roger Godwin, our Reach for the Stars winner in Georgia. That state, as you may know, has been extremely dry this season which kept Roger from planting in a timely fashion. But, he now reports that enough rain has fallen that he has gotten out in the fields:

"We only got 2 tenths of an inch from Barry, but we got an inch and a half over the next ten days. My son Walter and I have been busy planting peanuts, cotton, and soybeans since. It is now Father's Day and we have parked our planting unit along with the additional 8-row planter and tractor we rented from a neighbor. Besides, we are out of moisture again. We still have about 200 acres to finish planting. We are looking for showers to return around Wednesday."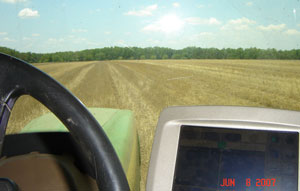 He says what he likes best about the system is the record-keeping. "When you have to track all these chemicals and when you grow cotton, you have to keep track of every acre they go on to," he says, and the system makes it much easier for him to do that. "You've got a little computer card and when you get ready to download it, you go and download it and you got a computer record."
"I've been checked 3 or 4 times by the EPA for my chemical usage and all I have to do is go to the computer and print out a report," he said. "And I can't understand why any farmer that's ever been checked is not using a system like this."
Roger also sent us these nice photos of his John Deere precision ag equipment and plans to send more. Roger is using the GreenStar™ AutoTrac™ Assisted Steering System with an AutoTrac Universal Steering Kit, a StarFire™ iTC receiver, and a John Deere SF2 signal activation; a GreenStar™ 2 System, which includes a GreenStar Display 2600 and preloaded GreenStar Basics software; and GreenStar Apex Farm Management Software.
Thanks, Roger.
Listen here to Roger's comments about record-keeping here:

Roger Godwin (1 min mp3)
Stay tuned to Precision.AgWired.com for more interviews throughout the 2007 growing season with the Reach for the Stars winners.