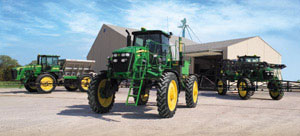 John Deere has just introduced a completely new line of sprayers – the 4730, 4830 and 4930 Series Self–Propelled Sprayers.
According to Deere, this new line–up sets new standards for sprayer performance, versatility and productivity.

"We've put together a complete family of self–propelled sprayers to meet the productivity demands of all markets, from growers to commercial applicators," says Craig Weynand, product marketing manager, John Deere Des Moines Works.. "And all the sprayers are loaded with integrated performance–enhancing technology which includes precision guidance, mapping and variable rate software. These machines truly are the most efficient sprayers ever built by John Deere."
The 4830 also features the standard GreenStar 2™ monitor pre–loaded with precision guidance, mapping, and variable rate software. The optional Boom Trac Pro automatic boom leveling maintains a consistent height over the crop while Swath Control Pro automatically turns nozzle sections on and off at end rows, waterways and other non–spray areas. This intelligent technology is designed to help operators cover more acres in less time, spray product more efficiently and reduce operator fatigue with the assisted–steering system of optional AutoTrac™.
Read more about these new sprayers on John Deere's website.