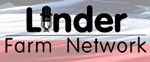 Linda Brekke of Linder Farm Network recently caught up with one of the John Deere/American Soybean Association (ASA) Reach for the Stars contest winners. Pete Kramer of Gibbon, Minnesota talks about the advantages of using his John Deere AutoTrac System.
Listen here to Linda's interview with Pete here:

Pete Kramer (2 min mp3)
Stay tuned to Precision.AgWired.com for more interviews throughout the 2007 growing season with the Reach for the Stars winners.