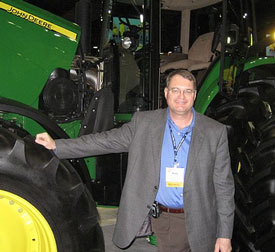 Using new media technology to get information out to farmers about new precision agriculture technology is really the ultimate goal of precision.agwired.com, according to John Deere Public Relations Manager Barry Nelson.
"Farmers in general are pretty anxious to embrace new technology if it is giving them an advantage or making them more profitable in their operation," says Nelson. And new technology includes internet-based communications tools like this website and podcasts.
"We're looking at all of that new technology to communicate with the farmers," he said.
Nelson says John Deere chose this type of website to help get more information to farmers about precision agriculture because it can be easily updated on a daily basis and it is "multi-media, so if we have audio interviews, or video, or good editorial, you can put all media you have about precision agriculture on one site. So, people can use that as a really good resource."
Nelson also likes being able to post interviews done by various farm broadcasters around the country on the site. "That's one of the advantages of this new site. It's kind of a win-win for everybody."

Barry Nelson (4 min mp3)