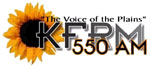 We continue to receive reports from farm broadcasters about precision agriculture. Our latest reports come from Duane Toews of KFRM, the "Voice of the Plains" in Clay Center, Kansas.

Duane interviewed Kyle Collins of John Deere Ag Management Solutions at Commodity Classic.


Duane Interview with Kyle (3:30 min mp3)
Duane also talked with Jeff Kaiser of John Deere Agri Services about OptiGro.


Duane Interview with Jeff (3 min mp3)