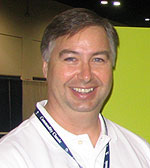 Here is a short sound bite, courtesy of Cyndi Young with Brownfield Network, that explains the advantage of John Deere's OptiGro System for corn and wheat growers in less than 30 seconds. Jeff Kaiser with John Deere's Agri Services does the explaining.
"The real difference is getting an image when you want it and getting it quickly after it's taken," Jeff says. "You can order it on Monday, get it back on Wednesday. You can have a sprayer in there Wednesday afternoon spraying nitrogen on the crop if you need to."
Cyndi interviewed Jeff at the Commodity Classic in Tampa.

Jeff Kaiser (:30 mp3)