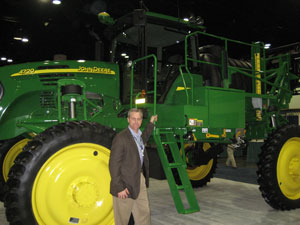 The industry leader in sprayers is even better with precision technology.
The John Deere 4720 was on display at the 2007 Commodity Classic, pictured here with Craig Weynand, Division Marketing Manager for John Deere Sprayers. Weynand says the 4720 is their most popular sprayer, "This machine is really tailored to the corn and soybean producer in the Midwest and the cotton producer in the South."
Precision technology like GreenStar™ AutoTrac assisted steering system and Swath Control Pro make the 4720 even more popular.
Swath Control Pro controls boom sections in the 4720 and 4920 Self Propelled Sprayers. Swath Control Pro utilizes Global Positioning System to turn boom sections on and off automatically, according to a coverage map where the operator and machine have previously applied product or created an internal or external boundaries that is not to be sprayed.
Listen to an interview with Craig about John Deere sprayers.

Craig interview (5 min mp3)